Présélections Eurovision 2014 (Suède)
C'est ce matin qu'a eu lieu l'annonce de la deuxième partie du Melodifestivalen 2014. Une deuxième partie assez étonnante, puisque de nombreux noms qui ont fait les beaux jours de ce festival ce représentent. Pour n'en citer qu'un : Alcazar (qui je l'espère cette fois-ci feront un meilleur résultat). La présence remarquée cette année d'Helena Paparizou (qui est une artiste extrêmement connue en Suède), à créer la sensation à Malmö. La participation de Dr.Alban, Shirley Clamp, Janet Leon (qui participa cette année), Anton Ewald (qui réusst néanmoins un bon résultat en finale cette année) et Jessica Folker (une ancienne gloire du Melodifestivalen).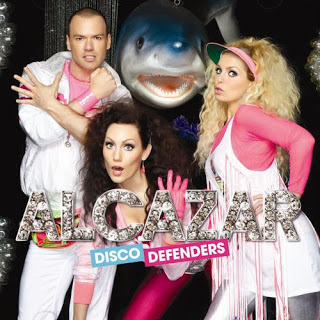 Je vous livre ici la totalité des morceaux présents dans toutes les demi-finales (ainsi que les auteurs et compositeurs). Je m'attend une fois de plus à du grand spectacle ! :
Première demi-finale: Malmö 1er février 2014
• Aleo
Artiste: Mahan Moin
Auteurs: Mahan Moin, Anderz Wrethov
• Bedroom
Artiste: Alvaro Estrella
Auteurs: Jakke Erixson, Jon Bordon, Lauren Francis, Kristofer Östergren
• Bröder
Artiste:Linus Svenning
Auteurs: Fredrik Kempe
• Bygdens son
Ariste: Sylvester Schlegel
Auteurs: Sylvester Schlegel
• Casanova
Artiste: Elisa Lindström
Auteurs: Ingela "Pling" Forsman, Bobby Ljunggren, Jimmy Jansson
• Songbird
Artiste: Ellen Benediktson
Auteurs: Sharon Vaughn, Johan Fransson, Tim Larsson, Tobias Lundgren
• Survivor
Artiste:Helena Paparizou
Auteurs: Bobby Ljunggren, Henrik Wikström, Karl-Ola Kjellholm, Sharon Vaughn
• To the End
Artiste:YOHIO
Auteurs: Andreas Johnson, Johan Lyander, Peter Kvint, YOHIO
2ème demi-finale, Linköping 8 février 2014
• Efter solsken
Artistes:Panetoz
Auteurs: Johan Hirvi, Mats Lie Skåre, Nebeyu Baheru, Njol Badjie, Pa Modou Badjie
• Glow
Artistes:Manda
Auteurs: Joy Deb, Linnéa Deb, Melanie Wehbe, Charlie Mason
• I Am Somebody
Artistes: Pink Pistols
Auteurs: Joakim Törnqvist, Nestor Geli, Per Ivar Hed, Susie Päivärinta, Diztord.
• Love Trigger
Artistes:JEM
Auteurs: Thomas G:son, Peter Boström, Julimar "J-Son" Santos
• När änglarna går hem
Artiste:Martin Stenmarck
Auteurs: Andreas Öhrn, Alexander Bard, Martin Stenmarck, Peter Boström
• Set Yourself Free
Artistes: Little Great Things
Auteurs: Charlie Grönvall, Cristoffer Wernqvist, Felix Grönvall, Adam Dahlström
• Hallelujah
Artistes:The Refreshments
Auteurs: Joakim Arnell
• Undo
Artiste: Sanna Nielsen
Auteurs: Fredrik Kempe, David Kreuger, Hamed "K-One" Pirouzpanah
3ème demi-finale, Göteborg 15 février 2014
All We Are
Artistes : State of Drama
Auteurs: Göran Werner, Sanken Sandqvist, Emil Gullhamn, Sebastian Hallifax
Around the World
Artistes: dr. alban & Jessica Folcker
Auteurs: dr. Alban, Jakke Erixson, Karl-Ola Kjellholm
Burning Alive
Artiste: Shirley Clamp
Auteurs: Bobby Ljunggren, Marcos Ubeda, Sharon Vaughn, Henrik Wikström
Busy Doin Noin'
Artistes: Ace Wilder
Compositeur: Ace Wilder, Joy Deb, Linnéa Deb
Echo
Artistes: Outtrigger
Auteurs: Joy Deb, Linnéa Deb, Anton Malmberg Hård Af Segerstad, Outtrigger
En enkel sång
Artiste: CajsaStina Åkerström
Auteurs: CajsaStina Åkerström
Red
Artiste: EKO
Auteurs: Linnéa Deb, Joy Deb, Anna Lidman, Hannes Lundberg, Michael Ottosson
Yes We Can
Artiste: Oscar Zia
Auteurs: Fredrik Kempe, David Kreuger, Hamed "K-One" Pirouzpanah
4eme demi-finale, Örnsköldsvik 22 fevrier 2014
Blame It On The Disco
Artistes:Alcazar
Auteurs: Fredrik Kempe, David Kreuger, Hamed "K-One" Pirouzpanah
En himmelsk sång
Artiste: Ellinore Holmer
Auteurs: Ellinore Holmer, Vanna Rosenberg, Åsa Schmalenbach, Josefina Sanner, Henrik Wikström, Amir Aly
Fight Me If You Dare
Artistes: I.D.A
Auteurs:Albin Nicklasson, Nicklas Laine, Louise Frick Sveen
Hela natten
Artiste: Josef Johansson
Auteurs: Peter Boström, Thomas G:son, Josef Johansson, Peo Thyrén
Hollow
Artiste: Janet Leon
Auteurs: Karl-Ola Kjellholm, Jimmy Jansson, Louise Winter
Natural
Artiste: Anton Ewald
Auteurs: John Lundvik
Raise Your Hands
Artiste: Ammotrack
Auteurs: Jari Kujansuu, Thomas Johansson, Calle Kindbom, Mikael de Bruin
Ta mig
Artiste: Linda Bengtzing
Auteurs: Nicke Borg, Jojo Borg Larsson
Des courts extraits seront annoncés sur la chaîne suédoise la SVT (nos fameux snippets) dans courant du mois de janvier 2014.
Voici encore, en exclusivité pour cette page, les 2 photos de groupe prisent lors de 2 conférences de presse qui ont eu lieu à Malmö et à Linköping :